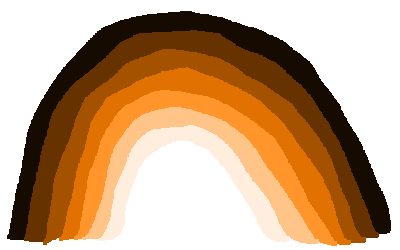 PREVIOUS ALBUM - HOME - NEXT ALBUM



Date: 2002-2009
Location: All over
Title: "The Singles"
Personnel: ? Jaron Eno Erik Charles Mike Jesse Cory Jay Chad ?

This is a demo tape we received at the record store where I work. Hopefully this guy eventually sent his tape to the right place.
Wow, this is stupid. Sometimes I amuse myself by using a looping pedal and pretending I'm The Bobs. Usually I have the good sense to not record the results.
This may have been recorded before Brown Rainbow technically existed, but Jaron says it's Brown Rainbow to him. Two people in a bathroom making noise.
One day Jesse called and said that today we were going to get together and make one song. And here it is. Many layered duets...maybe ten layers? The hiss on the original recordings was incredible, and removing the hiss gave everything a pixelated cavernous sound that fake reverb can only pretend to hide. Lyrics improvised by Jesse.
This is another delay pedal caprice of mine, but it's a lot better than track 2. I think so, at least.
Well, we'll see if this one stays up. Jesse (and Joe) wrote lyrics and asked me to put them to music. I did so, and this is the result. Jesse has grand plans for this song, including a video and I think an impromptu rooftop performance somewhere. He may not "authorize" this "release" of the song, but THAT'S TOO BAD CUZ HERE IT IS.
Jesse, Eno, and (presumably) Cory make a godawful racket. Kind of a brutal free jazz thing.
Mike gave this to Brown Rainbow back near the end of 2002. Sounds nice and gentle after that last track, eh?
Or so I thought. Recorded using the built-in microphone on my mp3 player, which is why it sounds a bit harsh. I considered adding some phony reverb to smooth it out some, but I decided I liked it better raw.
Don't expect this to go anywhere. It's just background noise for your drama-filled life.
Hanging out on the porch with the Juiceman.
Play All